Mr. One Wheel Drive doesn't live a life of solitude. I love my family and friends and sometimes, naturally, we want to ride together somewhere, especially when I'm out with my daughter doing errands.
I love the many multi-passenger options that there are out there, like the Xtracycle, Yuba, and various other bakfiets which are perfect for carrying lots of stuff, but I'm a frugal guy and those things are expensive! And I already have my home-made trailer for when I want to carry massive loads. So I went about making my own back seat: Strong enough to carry my wife, soft enough to carry my 4 year old daughter.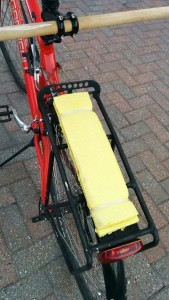 The idea was simple. Attach a bike stem to my seat post and then add handlebars. I didn't have any extra handlebars, but looking around in my garage I saw a broom. Chop chop, and there you go (when I get an idea, anything within reach becomes fair game).
I wanted to add some padding for the seat, for an extra-comfy ride. We have some interlocking foam floor mats that we got when our daughter was a baby, I keep them in the garage now for working underneath my car or for kneeling on. I cut two nice pieces off of one and attached them to my rack with a pair of zip ties, making sure that the locking part was underneath so that it wouldn't rub against the skin.
I initially also thought about making stirrups, to support the feet, but so far it hasn't really been needed. I put my panniers on to keep feet out of the spokes.
The rack I have is made by axiom, and it is rated for 70kg. I'm really quite happy with it. At first I thought that I'd need a massive rack like Dutch bikes have, but doing some tests of my own showed that it was quite strong enough.
Total cost: $20 (all for the stem, which I bought new). At this point you might say: "Hey, what about that broom?" Yes, I have to bend over more to hold the broom now – but I told my daughter it was her broom,  and now she is proud and sweeps the floor.